Met een partner die werkzaam is in de golfkarton/verpakkingsbranche is er geen ontkomen aan voor mij. Het verpakken van de bestellingen moet met aandacht gebeuren en zo efficiënt mogelijk. Best passend, voldoende beschermend en het liefst zo goedkoop én ecologisch mogelijk.
Een mooi passende mix van formaten is het uitgangspunt van onze verzenddozen. Maar waar ligt de grens van een goed passende doos versus aantal benodigde formaten.
Om dat goed uit te leggen kunnen we het beste beginnen met de 80/20 regel te nemen voor de verzenddozen. Bij Mevrouw Aardbei kunnen we zeggen dat 80% van de orders zich laat verzenden in 'handzame verzenddozen'. Echter nemen we daar niet direct afscheid van het minimaliseren van materiaal en luchtverzending. Juist die 80% verdiend aandacht, ook al is het 10 cm links of rechts.
Het is minder opvulmateriaal, minder ruimte in de bus, minder verpakkingskosten.
Hier gaan we uit van het collomoduul principe en werken naar de 800x600mm toe die de rolcontainer van PostNL is. Dit vlak delen we op in 4 posities van 400x300 en daarin hebben we kleine doosjes (4x blauw), middelgroot (2x geel), lange smalle (2x roze) en een 400x300 (1x groen) doos zitten. Het 400x300 formaat hebben we dan weer in hogere uitvoering, om binnen dit principe te blijven als we de container laden.
Binnen dit principe proberen we ook de grotere dozen uit te breiden. Zo hebben we een 600x400 doos met rillen om in de hoogte te variëren (op de foto onderin de container). Deze bezet precies twee posities van 400x300 in de rolcontainer zoals in de foto is te zien. Waar het product het toelaat gebruiken we de rillen op de romp om de doos te verlagen t.b.v. opvullen en verzending. Zo minimaliseren we het volume en het onnodig opvullen van de dozen. Ondanks dat het een grote doos is, past het formaat goed in combinatie met het collo modulaire principe. Zo bouwen we de container strak gevuld op. Waarvan wij dan weten dat er ook in de doos nauwelijks lucht verstuurd wordt.
Als opvulmateriaal proberen we zoveel mogelijk gebruik te maken van gerecycled papier om de doos af te vullen. Wij hebben zelf geen plastics, anders dan een bubbeltjesfolie om de erg gevoelige producten als bijvoorbeeld lampen te beschermen. Mochten we nou plastic luchtkussens hebben ontvangen vanuit leveranciers, dan houden we deze achter om deze incidenteel in te zetten wanneer het nodig is bij bijvoorbeeld de combinatie van erg zware producten met gevoelige producten.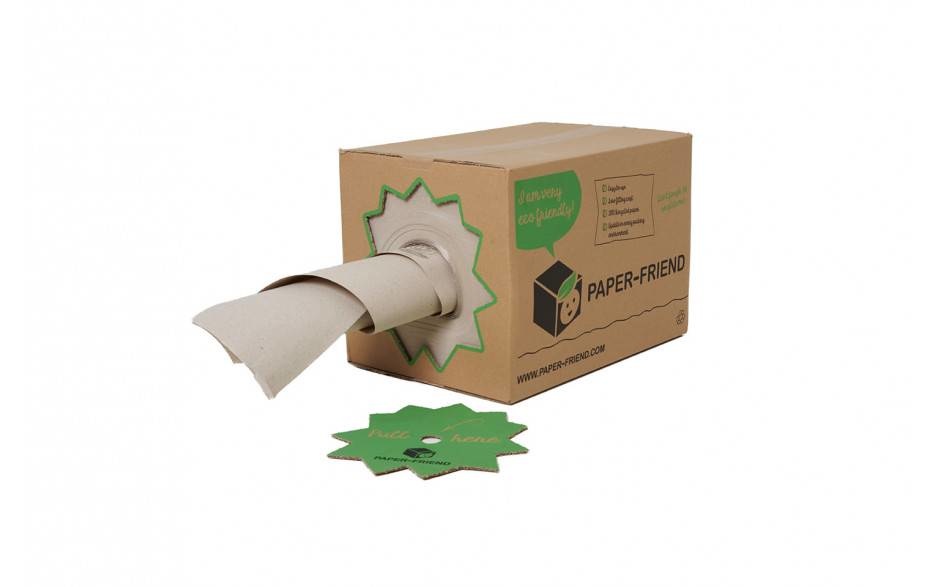 Maar dan heb je nog de uitzonderingen. De erg grote bestellingen of onhandige combinaties. Bijvoorbeeld het vloerkleed met de voetbal. Langwerpige doos in het assortiment, maar net niet breed genoeg voor de voetbal. Kies je voor twee dozen verzenden of toch een onhandig grote doos?
Helaas zit er nog geen financiële prikkel om twee goed passende dozen als 1/2 en 2/2 te verzenden. 
Bij de verzendpartijen hebben ze dan blijkbaar toch nog liever 1 grote doos met (veel) vulling. Zelf proberen we dat te minimaliseren door ook daarvoor dan een nog meest geschikte doos te vinden en waar mogelijk de naar binnen te vouwen kleppen handig te gebruiken.
Wij hebben slechts beperkte voorraad staan van grote dozen. Gelukkig wordt hiervoor gezorgd door de leveranciers die hun spullen vaak aanleveren in groot volume. Deze dozen zijn vaak van een zwaarder (dubbel) golfkarton. Deze zijn nog goed functioneel en met enige regelmaat nog netjes ook.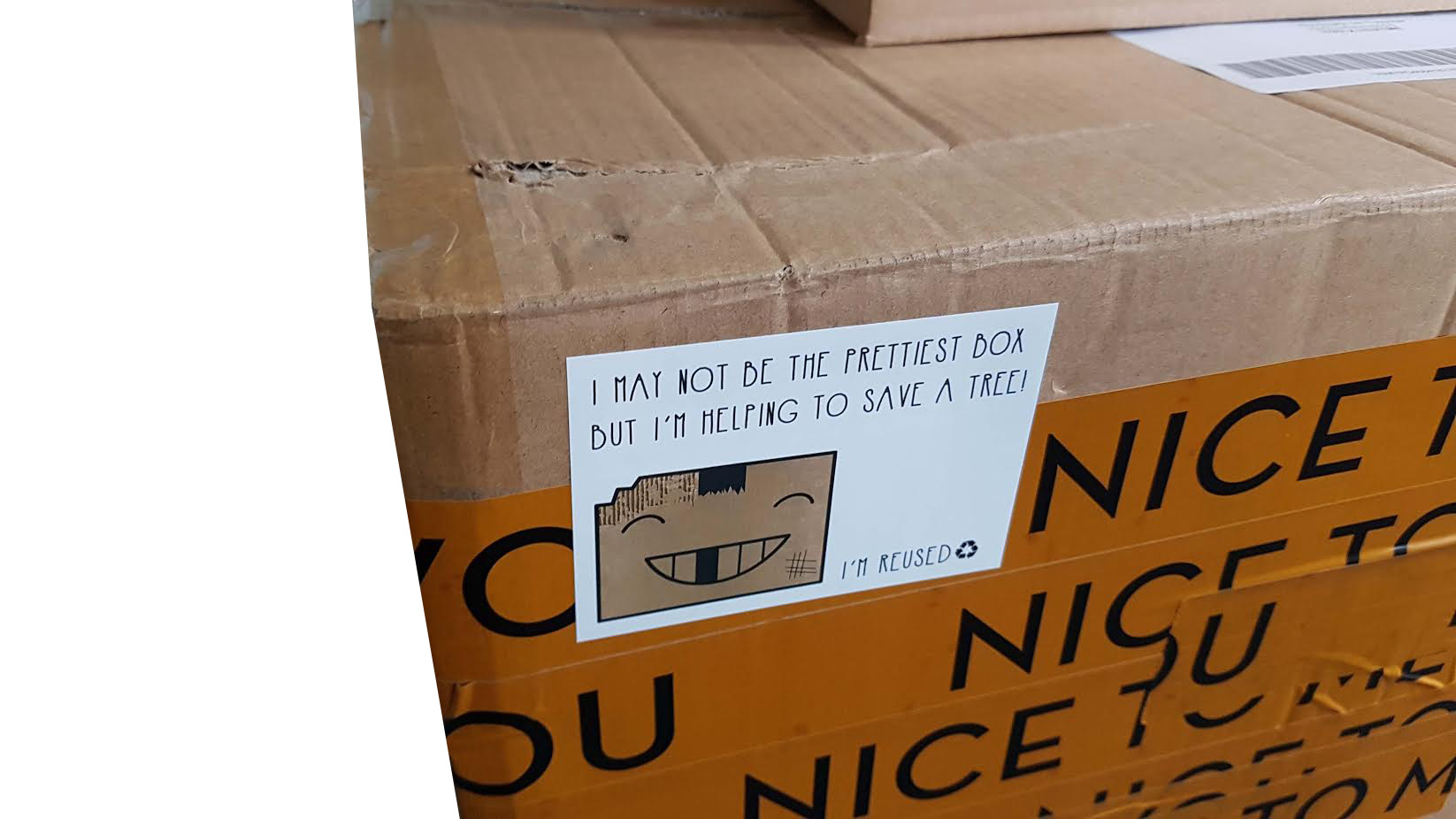 Deze dozen stampen we bij voorkeur niet in het oud papier, maar geven we een tweede leven door ze opnieuw te gebruiken voor verzending. Nog beter dan recyclen als je het mij vraagt. Gelukkig zijn we in Nederland steeds meer begaan met het milieu en hebben we hier nooit negatieve reacties op ontvangen. Wellicht door onze sticker, die het doel en onze keuze nog even (vrolijk) kracht bijzet.
Uiteraard hebben we door deze manier van werken ook wel eens een doos die niet helemaal precies past. Dan valt hij een enkele keer wat groot uit. Maar weet dan dat onze intentie is zo min mogelijk weg te gooien, te laten produceren binnen de mogelijkheden van Mervouw Aardbei.