In deze blog vertellen we hoe je een baby- of kinderkamer decoreert met een voertuigen thema.
De basis
Kies als basis een mooi behang. In dit thema is het natuurlijk wel leuk om dan voor een behang te kiezen met een voertuigen patroon, maar kies vooral iets wat jij mooi vindt. Wij hebben in deze blog gekozen voor het behang kraanwagen grijs van Studio Ditte. Dit behang is verkrijgbaar in onze shop. Kies een strook of een hele wand waarop je het behang plakt. Daarnaast kies je voor meubels in een aantal kleurstellingen (bijvoorbeeld rood, groen en grijs).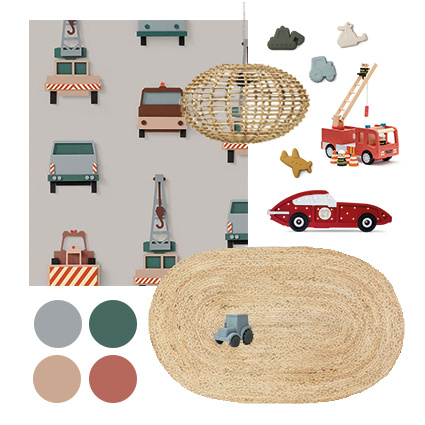 Studio Ditte behang kraanwagen grijs - KisDepot vloerkleed jute ovaal - KidsDepot pumpkin hanglamp rotan - Little Lights Race Car - Kids Concept brandweerauto Aiden - Liewood Gill siliconen zandvormpjes vehicles/dove blue - Liewood Winston oplaadbare nachtlamp tractor/blue fog multi
Kies voor kleur
Zorg ervoor dat je de kleuren uit het behang een beetje terug laat komen in de kamer. Je kunt hier ook een net iets andere kleur gebruiken dan het behang, als het maar in hetzelfde pallet valt en je een paar kleuren kiest welke echt dichtbij komen. Zo wordt de kamer een geheel.
In dit geval: rood, groen en grijs.


De accessoires
Het best passend bij dit voertuigen behang zijn de kleuren die het meest in het behang voorkomen, zoals rood, groen, blauw en grijs. Kies dus voor deze tinten in de kamer. Verder is het mooi om steeds dezelfde kleuren mee te nemen in je accessoires zoals in slingers, lampen, vloerkleed of een hemeltje. Probeer het geheel rustig te houden zodat het niet te druk wordt in de kamer, aangezien het behang al de eyecatcher is.