In deze blog vertellen we hoe je een dromerige babykamer maakt met een wolken thema.
De basis
Kies als basis een leuk behangetje. In dit thema is het natuurlijk wel leuk om dan voor een wolken behang te kiezen, maar kies vooral iets wat jij mooi vindt. Wij hebben in deze blog gekozen voor het behang Classic clouds beige van Dekornik. Dit behang is verkrijgbaar in onze shop. Kies een strook of een hele wand waarop je het behang plakt. Daarnaast kies je voor meubels in een aantal kleurstellingen (bijvoorbeeld wit en eiken of mintgroen).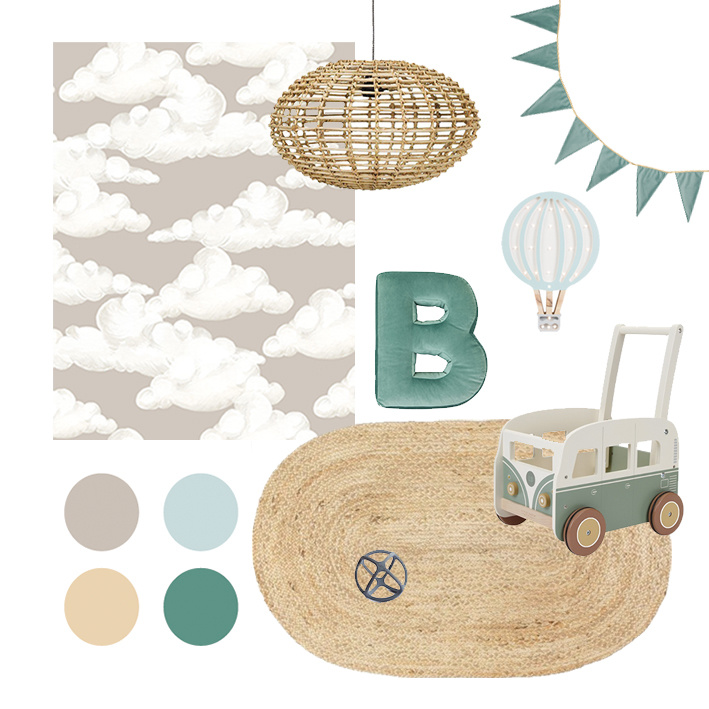 Dekornik behang Classic clouds beige - KidsDepot pumpkin hanglamp rotan - Betty's Home slinger velvet mint - Little Lights lamp Hot air balloon - Betty's Home letterkussen - Little Dutch loopwagen vintage wagon - KidsDepot vloerkleed jute ovaal - Mushie silicone bijtspeeltje bal
Kies voor kleur
Zorg ervoor dat je de kleuren uit het behang een beetje terug laat komen in de kamer. Je kunt hier ook een net iets andere kleur gebruiken dan het behang, als het maar in hetzelfde pallet valt en je een paar kleuren welke echt dichtbij komen gebruikt. Zo wordt de kamer een geheel.
In dit geval: mintgroen, wit, beige en eiken.
De accessoires
Het best passend bij een wolken behang zijn natuurlijke materialen. Kies voor hout, rotan en/of riet. Verder is het mooi om steeds dezelfde kleuren mee te nemen in je accessoires zoals een knuffel, hydrofiele doeken en een poster bijvoorbeeld. Probeer het geheel rustig te houden zodat het niet te druk wordt in de kamer aangezien het behang al de eyecatcher is.