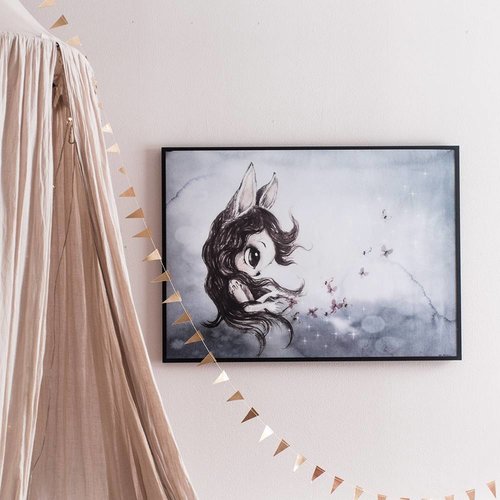 NURSERY
You will find the most stylish, trendy and unique nursery accessories.
Whether you are going to decorate a baby room or are in the process of (re) furnishing the nursery, with us you will find the latest nursery accessories from all over the world.
With children's room accessories you can change the nursery or the baby room and bring your atmosphere into the room.
Are you looking for a children's lamp, storage basket , pillow, night light, children's poster, letter banner , mobile , garland , rug, animal head or perhaps a matryoshka ? With us you will find unique musthave nursery accessories and baby room accessories!
Well-known or special brands of nursery accessories and baby room accessories include: Eef Lillemor, A Little Lovely Company, Tell Kiddo , Lilipinso, Liewood, Heico, Miniwilla, Bibib, Play and Go, Cam Cam Copenhagen, Done by Deer, Fabelab and Nobodinoz.
Are you looking for original pillows, nice lights, cool wall stickers and posters, a nice baby blanket or a hip tipi play tent? Take a look and get inspired!
Children's room accessories include storage boxes , baskets , suitcases, stuffed toys, toys, rugs, cupboard hangers , children's room posters, postcards, children's books, fabric garlands, poms, coat hooks , pillows, dressing pillow (with special cover!), Music mobile etc. With accessories and nursery decoration make the nursery cozy and personal and style the room.
We have different things about decoration , such as a different garland, letter banner, letter board , Sonny Angel , baby mobile and wooden figures . If you are looking for storage , we have wall boards, wall houses , wall hooks , paper bag , dust bag , storage basket , storage boxes and children's suitcases . On children's lamps we have night light , great figure lamp , lightbox , light letters , neon lamp and string lights . If you are looking for posters , we have A3 posters , 50x70 posters and 30x40 posters . Send a card ? We have congratulatory cards , thank you card , love , birth announcement , get well card , pregnancy card and Christmas cards . Are you looking for a rug , playmat, playmat, pillow , animal head or smoke detector ? You can also find that with us. Or maybe a children's table with high chair , perfect for your boy or girl . With our wide range of nursery accessories you can certainly furnish a beautiful nursery! We also offer various nice gift vouchers !