Wat geef je een kind van 1 jaar voor zijn verjaardag, Kerst of voor Sinterklaas? Het lijkt lastig om het perfecte cadeau voor je kind te vinden, maar met deze cadeautips van Mevrouw Aardbei hoeft dat niet meer lastig te zijn. We hebben verschillende moodboards gemaakt in verschillende categorieën ter inspiratie. We hebben zowel tips voor meisjes-, jongens- als genderneutraal speelgoed.


Grove motoriek
De motorische ontwikkeling van je kind gaat op deze leeftijd behoorlijk hard! Na 12 maanden heeft je kindje al zijn eerste stappen gezet en is het tijd voor een nieuwe ontdekkingsreis. De kinderen willen veel ontdekken en dit kan perfect met deze gave items. Van spelen in de ballenbak en lekker lopen met de loopwagen naar glijden van de glijbaan!

1. That's Mine speeltunnel 2. Jupiduu Kinder glijbaan wit 3. Little Dutch loopwagen Little Goose 4. Jupiduu Ballenbak  5. Little Dutch loopwagen Vintage Wagon
6. That's Mine foam speelmat

Fijne motoriek
Wat kleiner speelgoed voor de motorische ontwikkeling van 1-jarige zijn puzzels, sorteerspelletjes, stapelaars, blokken e.d. Ook speelgoed met een geluidje is heel erg interessant. Belangrijk is op deze leeftijd dat het speelgoed tegen een stootje moet kunnen, want een kind van deze leeftijd gooit, slaat of sleept nogal eens met zijn speelgoed.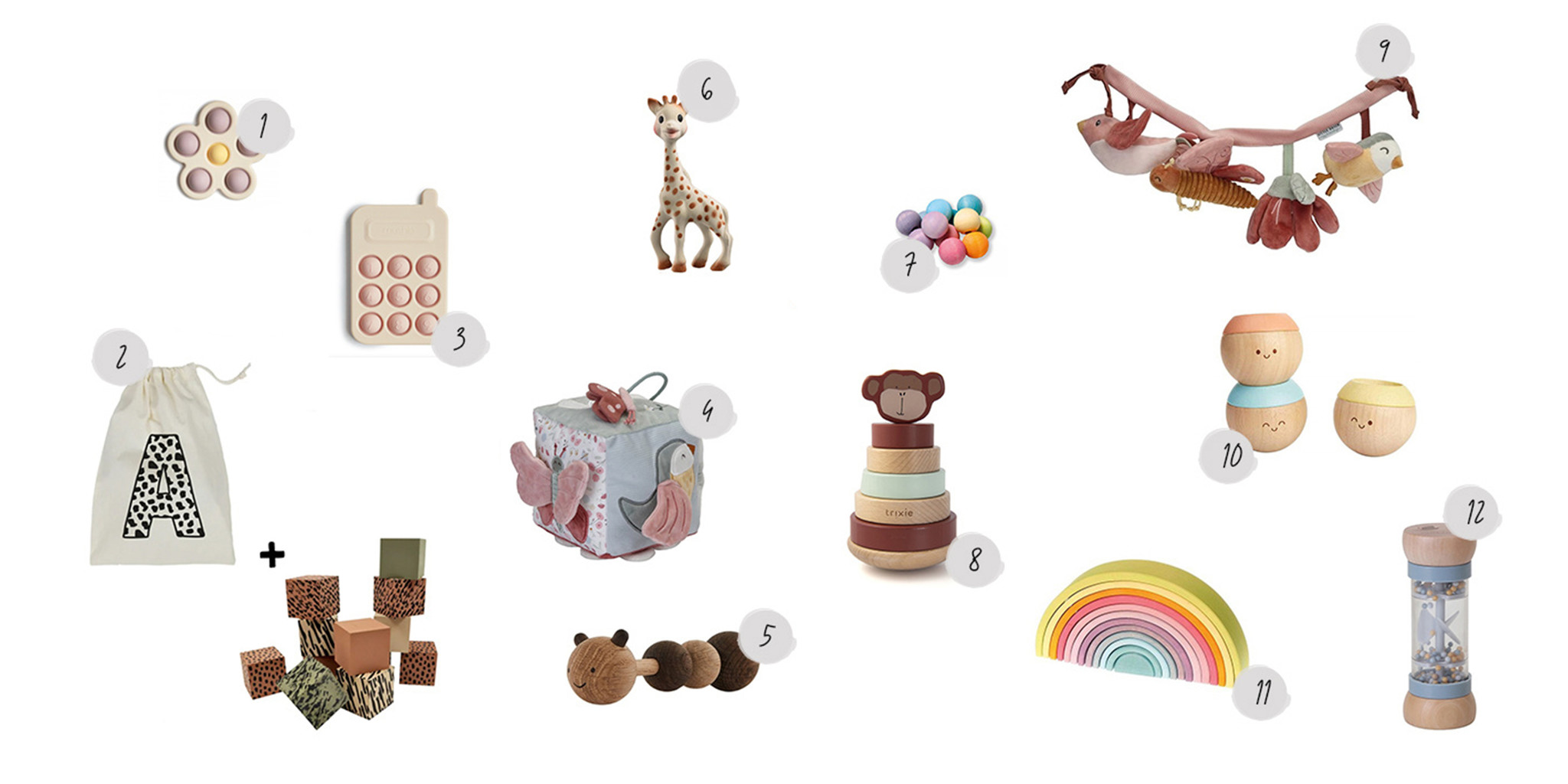 1. Mushie press toy flower 2. VanPauline Foam Blokken 3. Mushie press toy telefoon 4. Little Dutch activiteitenkubus 5. OYOY rammelaar Larva 6. Sophie de Giraffe 7. Grimm's Toy's kralen grijper  8. Trixie houten stapeltoren 9. Little Dutch wagenspanner 10. Plan Toys sensory tuimelaars 11. Grimm's Toy's large pastel rainbow 12. Little Dutch regenrammelaar


Voertuigen
Dit zijn dé cadeaus voor een jongen van 1 jaar. Race het hele huis door met de coole voertuig speeltjes.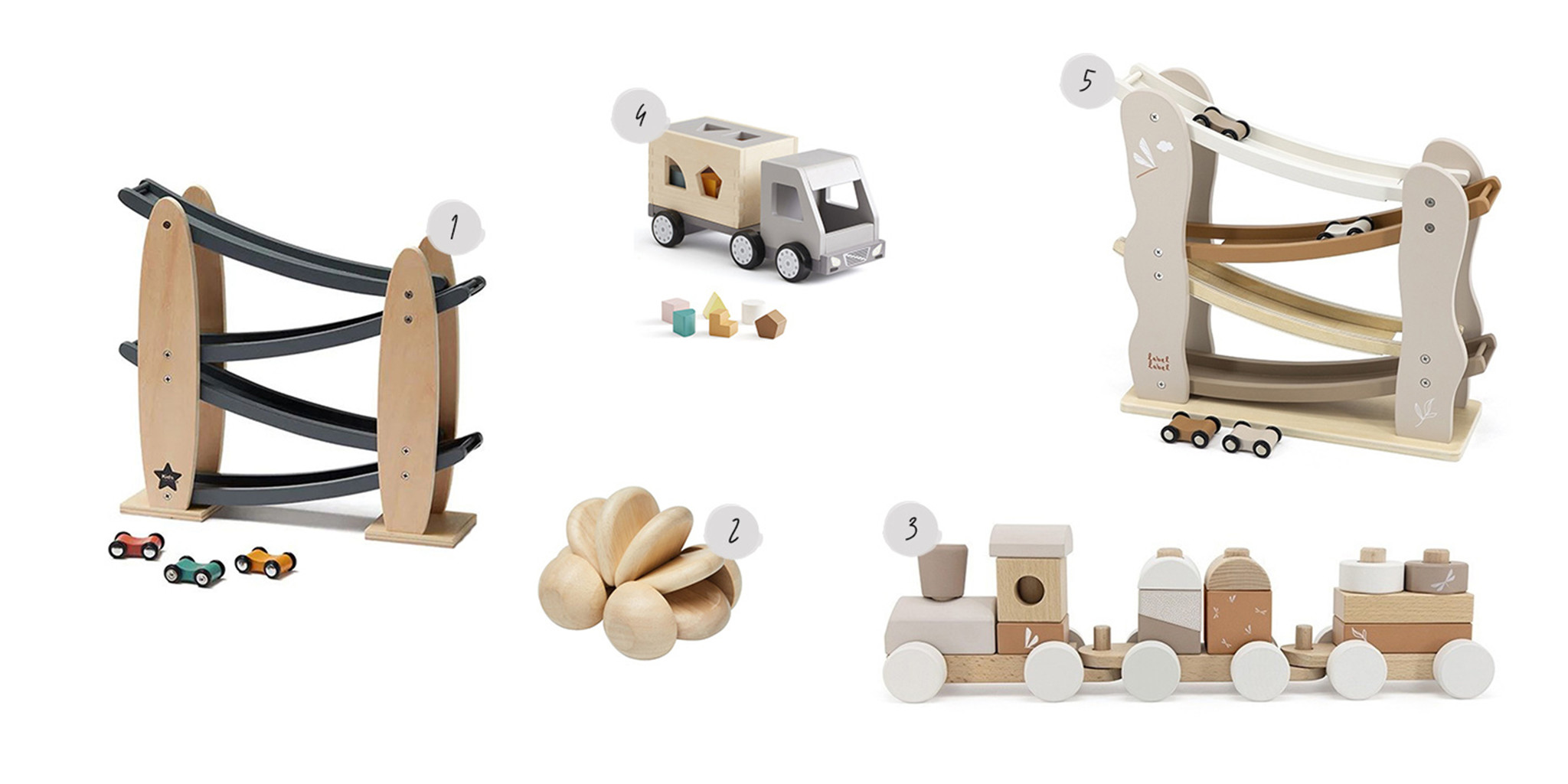 1. Kids Concept autobaan 2. Plan Toys houten baby auto 3. Label Label houten blokkentrein 4. Kids Concept vrachtwagen vormenstoof 5. Label Label autobaan


Poppen
Er zijn tegenwoordig zoveel verschillende soorten poppen. Daarbij zijn er ook heel veel leuke accessoires. Zoals een poppendraagzak of de hipste kledingsetjes. Ook hebben we poppendekbedjes in verschillende kleuren en printjes. Heel veel keus dus!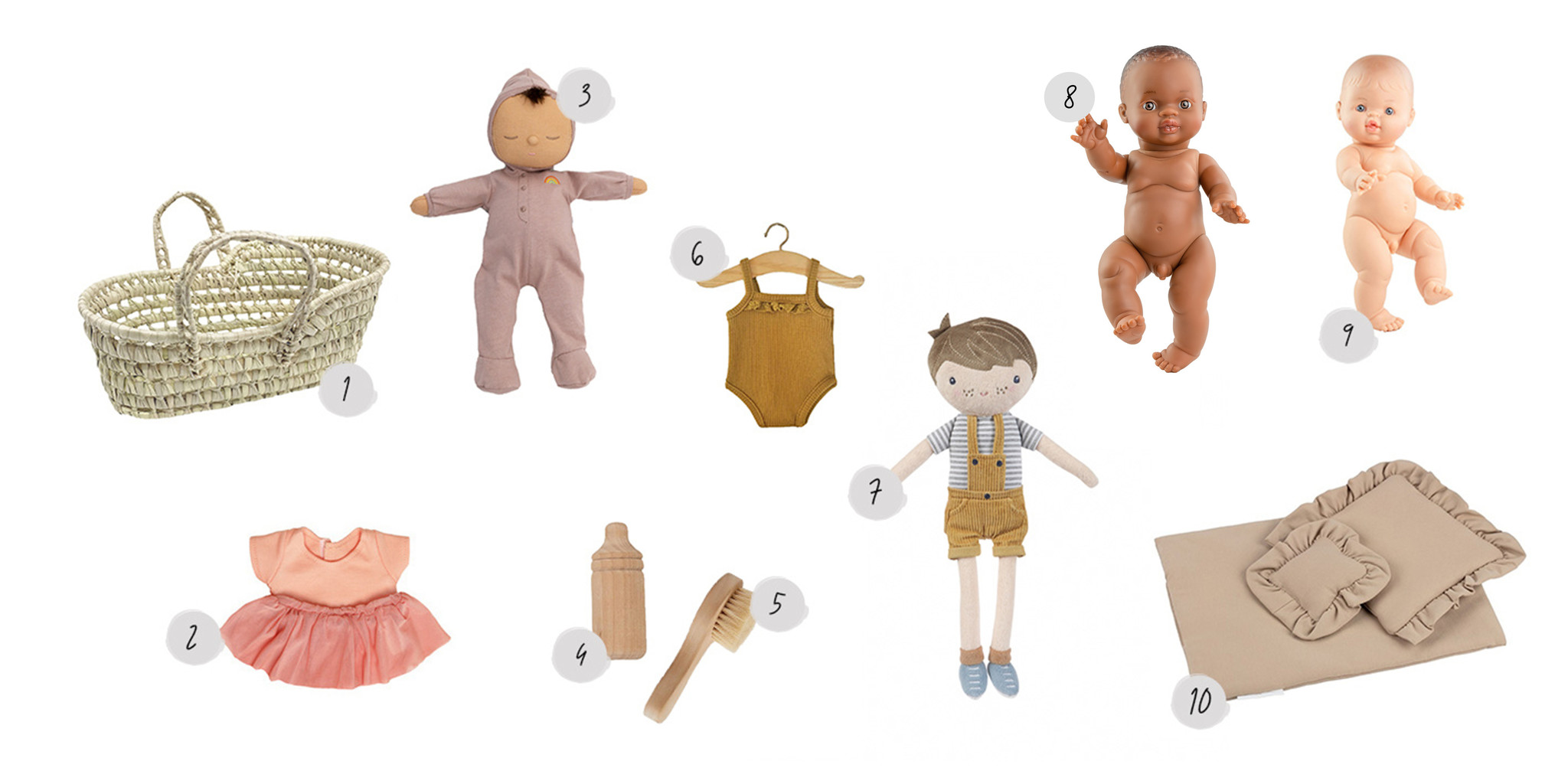 1. Poppen rieten moses mand 2. Olli Ella Dumkin Doll Ballet set 3. Olli Ella Dozy Dinkum Doll Pip 4. Olli Ella Dinkum Doll Bottle 5. Olli Ella Dinkum Doll Brush 6. Minikane poppenkleding romper kant mosterd 7. Little Dutch knuffelpop Jim 8. Paola Reina Pop Gordi jongen Afrikaans 9. Paola Reina Pop Gordi jongen Europees 10. Cotton & Sweets poppendekbedje



Badspeelgoed
Allemaal leuke speeltjes om badtijd nog leuker te maken! Zo kan je je kind nog wat gaan leren in bad met badletters, puzzels of boekjes.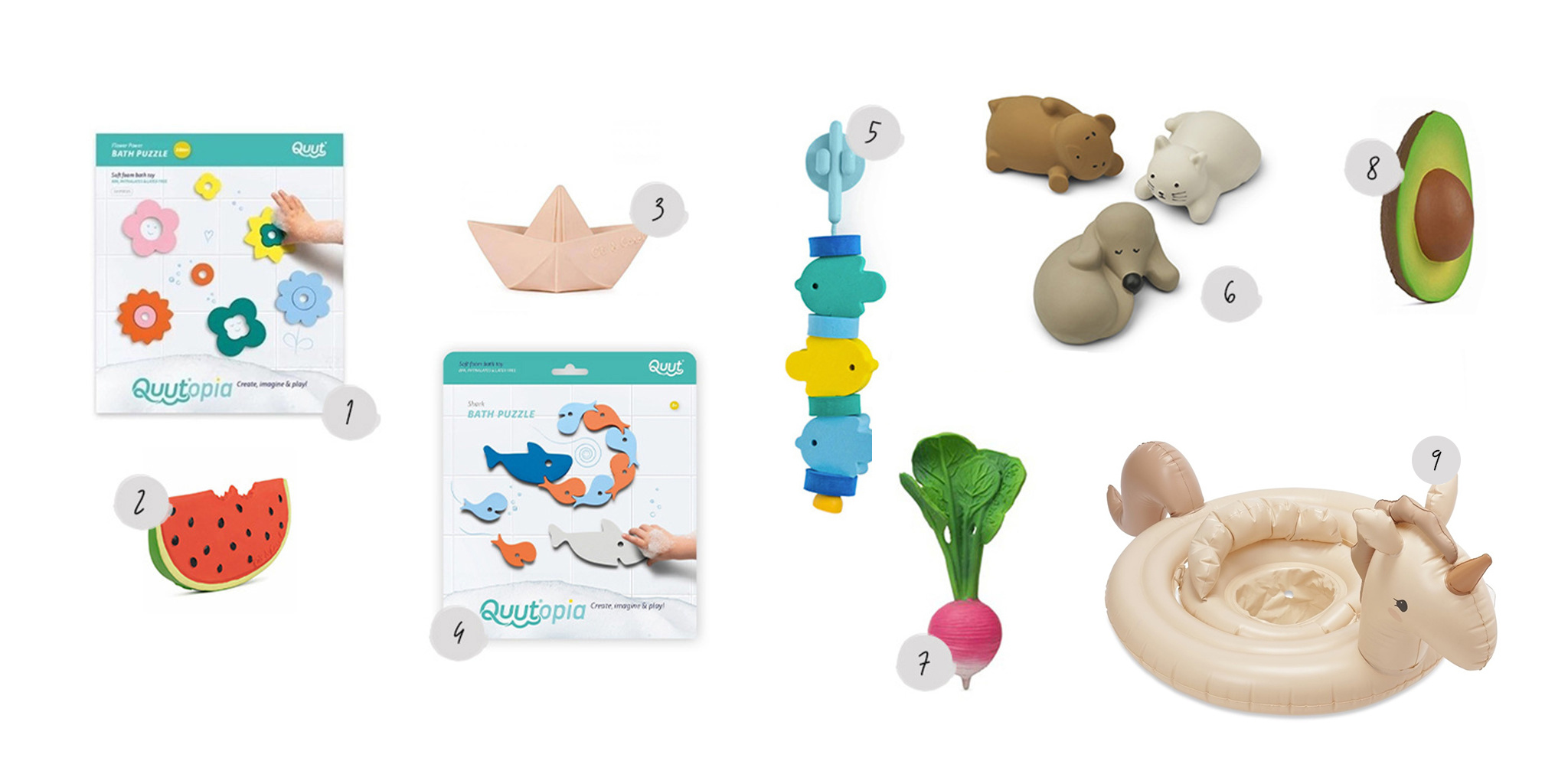 1. Quut Quutopia badpuzzel 2. Oli & Carol bijt- & badspeelgoed meloen 3. Oli & Carol badspeeltje bootje 4. Quut Quutopia badpuzzel 5.Quut Quutopia badspeelgoed beedi kralen 6. Liewood Nori Badspeelgoed 7. Oli & Carol bijt- & badspeelgoed radijs 8. Oli & Carol bij- & badspeeltje avocado
9. Konges sløjd baby zwemband unicorn
Boekjes
Speelgoed met geluiden of verschillende materialen is ook heel interessant voor je 1-jarige. In het moodboard zie je verschillende boekjes die geluid maken of die je kan voelen. Daarbij zijn aanwijsboekjes met herkenbare items favoriet!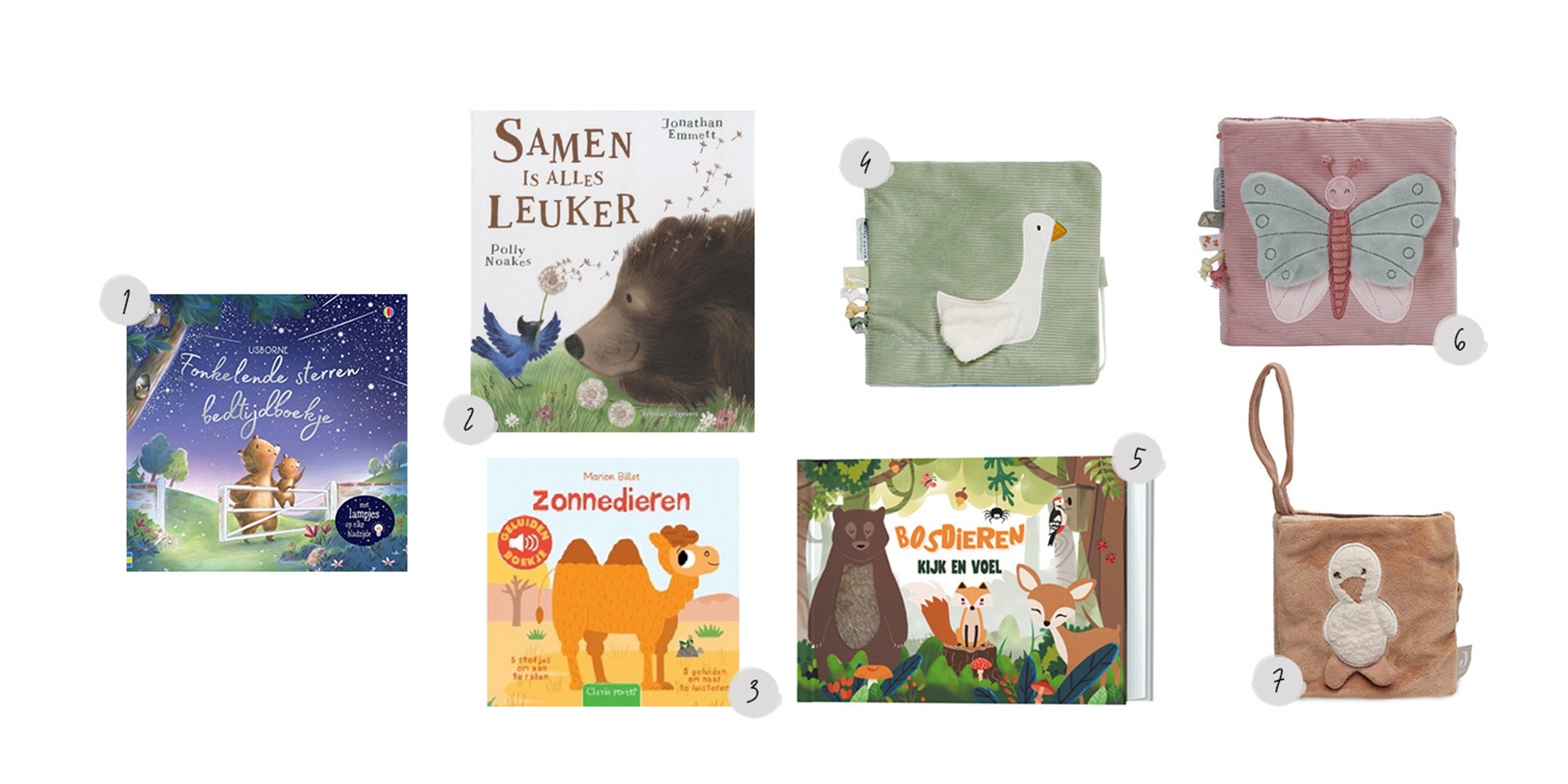 1. Fonkelende sterren bedtijdboekje 2. Boek samen is alles leuker 3. Boek Zonnedieren (geluidenboekje) 4. Little Dutch activiteitenboekje Little Goose 5. Boek bosdieren Kijk en voel 6. Little Dutch activiteitenboekje flowers & butterflies 7. Jollein activiteitenboekje spring garden