Wat geef je een kindje in zijn/haar schoen voor Sinterklaas? Het lijkt lastig om het perfecte cadeau voor je kind te vinden, maar met deze cadeautips hoeft dat niet meer lastig te zijn. We hebben verschillende moodboards gemaakt ter inspiratie. We hebben zowel tips voor jongens, meisjes en neutraal speelgoed. Alle schoencadeau tips zijn onder de €15-,. 


Schoen zetten
Schoen zetten is een belangrijk onderdeel van het Sinterklaasfeest, maar hoe werkt het nu precies?
Wanneer schoen zetten?
Wanneer je kindje nog een baby is, krijgt hij of zij waarschijnlijk niet veel mee van het feest. Rond 1,5/2 jaar wordt het hele Sinterklaasfeest wat interessanter voor je kind. Je kunt ervoor kiezen om op die leeftijd te beginnen met het zetten van de schoen, maar ieder kindje is natuurlijk anders. Uiteindelijk beslis je zelf wanneer het geschikte moment is aangebroken.
Het moment dat Sinterklaas aankomt in Nederland is het moment dat het schoen zetten kan beginnen. Dit jaar vindt dat plaats op zaterdag 18 november (in Gorinchem). Vaak is dat ook gelijk de eerste avond dat het schoentje gevuld wordt met een traktatie of een cadeautje. Keert Sinterklaas weer terug naar Spanje? Dan houdt het cadeautjesfestijn weer op.
Hoe vaak schoen zetten?
Meestal spreekt "Sinterklaas" met papa en mama af hoe vaak de schoen gezet mag worden. Sommige kinderen mogen dit een of twee keer per week; en anderen zetten hun schoen wat minder vaak, bijvoorbeeld drie keer in totaal.
Welke dagen zijn handig om de schoen te zetten?
Voor sommige kinderen kan het best spannend zijn om de schoen te zetten. Om die reden zou je kind wat minder goed kunnen slapen. In dat geval kan je beter kiezen voor vrijdagavond of zaterdagavond. Dan is er meer rust en tijd en gaat je kindje niet vermoeid naar school. Bovendien is er dan ook meer tijd om met het cadeautje te kunnen spelen.
Schoencadeau tips
Op pakjesavond komt de Goedheiligman langs met een zak vol cadeautjes. Om je spruit niet al te erg te verwennen is het handig om de schoencadeaus wat kleiner te houden. Voor een bedrag onder de €15,- kan Sinterklaas je kindje al flink verrassen. Vergeet natuurlijk niet dat wat lekkers in de schoen ook een goede optie is. Wie wordt er nu niet blij van een chocoladeletter, chocololly of pepernoten?
Baby 0-1 jaar
Klik hier om cadeau tips te zien voor baby's van 0-1 jaar. Voor een bedrag onder de €15.-.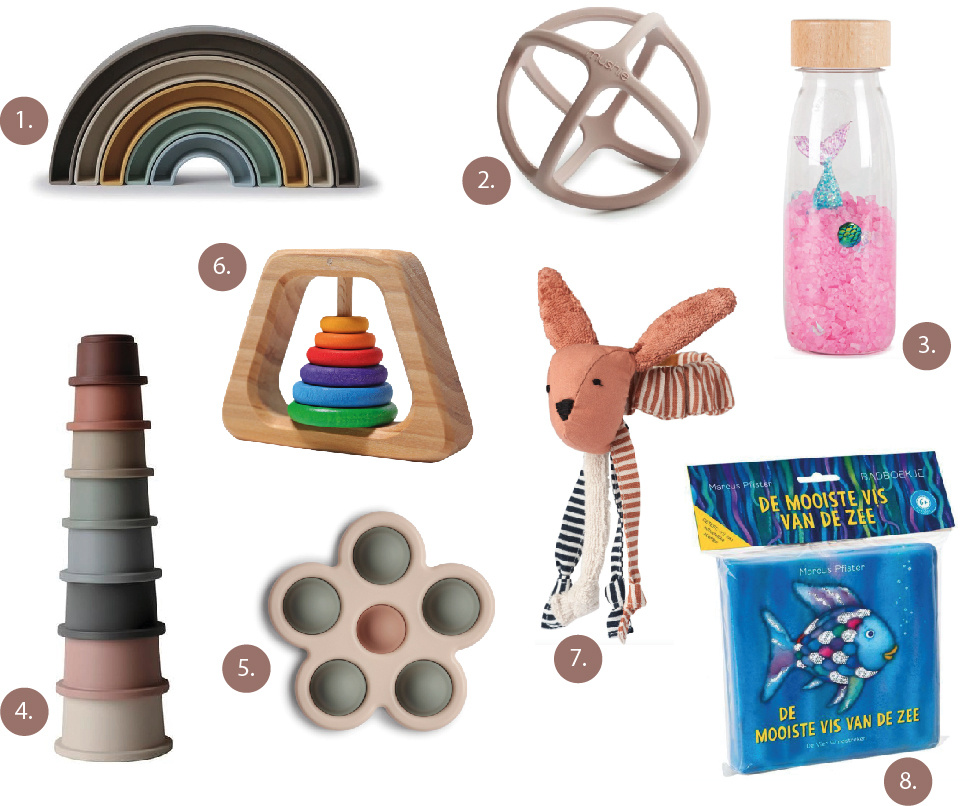 1. Mushie stapeltoren rainbow 2. Mushie bijtspeeltje bal 3. Petit boum sensorische fles zeemeermin 4. Mushie stacking cups 5. Mushie press toy 6. Grimm's Toy's rammelaar 7. Willy rammelaar Liewood 8. De mooiste vis van de zee badboekje 
Peuter 2-4 jaar
Klik hier om cadeau tips te zien voor peuters van 3-4 jaar. Voor een bedrag onder de €15.-.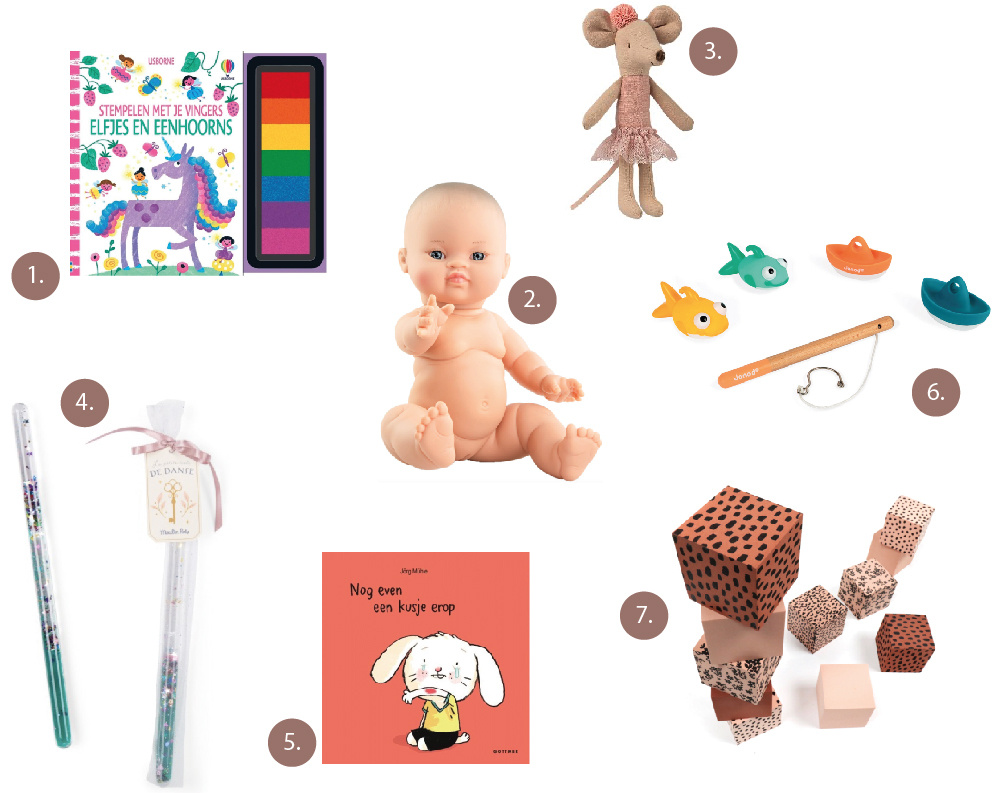 1. Usborne stempelen met je vingers  2. Paola Reina pop  3. Maileg Ballerina grote zus 4. Moulin Roty turqouise toverstaf 5. Nog even een kusje erop 6. Janod hengelspel 7. Van Pauline foam blokken 
Kleuter 4-5 jaar
Klik hier om cadeau tips te zien voor kleuters van 4-5 jaar. Voor een bedrag onder de €15.-.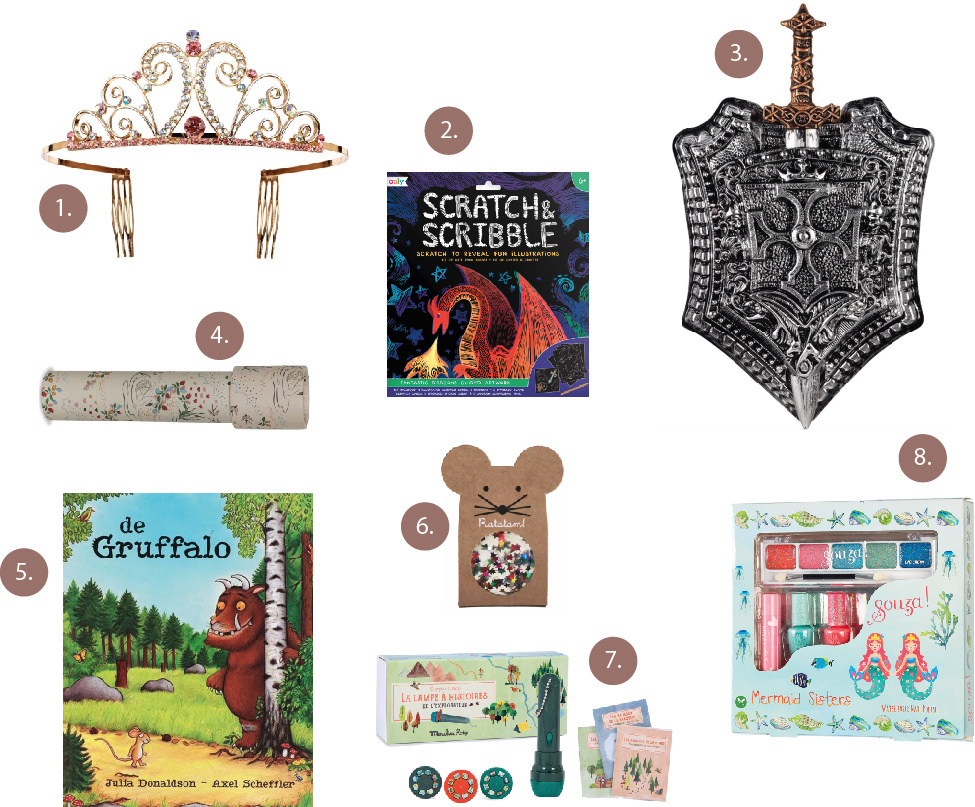 1. Souza kroon goud 2. Scratch & scribble 3. Souza schild en zwaard set 4. Kaleidoscoop 5. de Gruffalo 6. Ratatam stuiterbal 7. Moulin roty projector bedtijdverhalen 8. Souza make-up set Mermaid sisters
Kind 5 jaar en ouder
Klik hier om cadeau tips te zien voor kinderen van 5 jaar en ouder. Voor een bedrag onder de €15.-.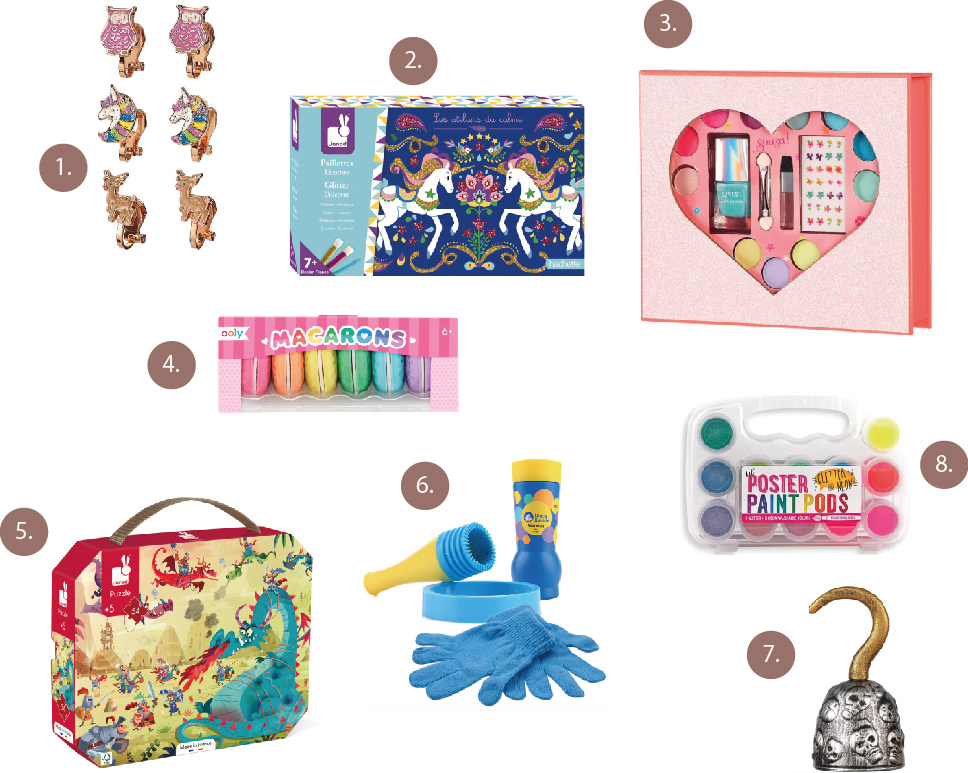 1. Souza clipoorbellen animals 2. Janod glitter eenhoorns 3. Ooly macaron gummen 4. Souza make-up set 5. Janod puzzel 6. Uncle Bubble - Bouncing bubbles 7. Souza piraat haak Jean 8. Ooly verfsetje met penseel