Als je kindje 4 wordt, breekt er weer een hele nieuwe fase in het leven aan. Je kind mag namelijk naar de basisschool! In deze nieuwe fase leren ze weer hele nieuwe vaardigheden en krijgen ze ook nieuwe interesses. Ze beginnen met samen spelen en de fantasie ontwikkelt zich steeds meer. Ook kunnen ze zich beter concentreren en uitten ze zichzelf creatiever. Maar welk speelgoed kun je nu als cadeautje geven aan die creatieve 4-jarige? In deze handige guide vind je de leukste items die je kunnen helpen bij het zoeken van de cadeaus!
Speelgoed
Dit mooie speelgoed is perfect voor samen spelen, knutselen en om het fantasierijke brein aan het werk te zetten.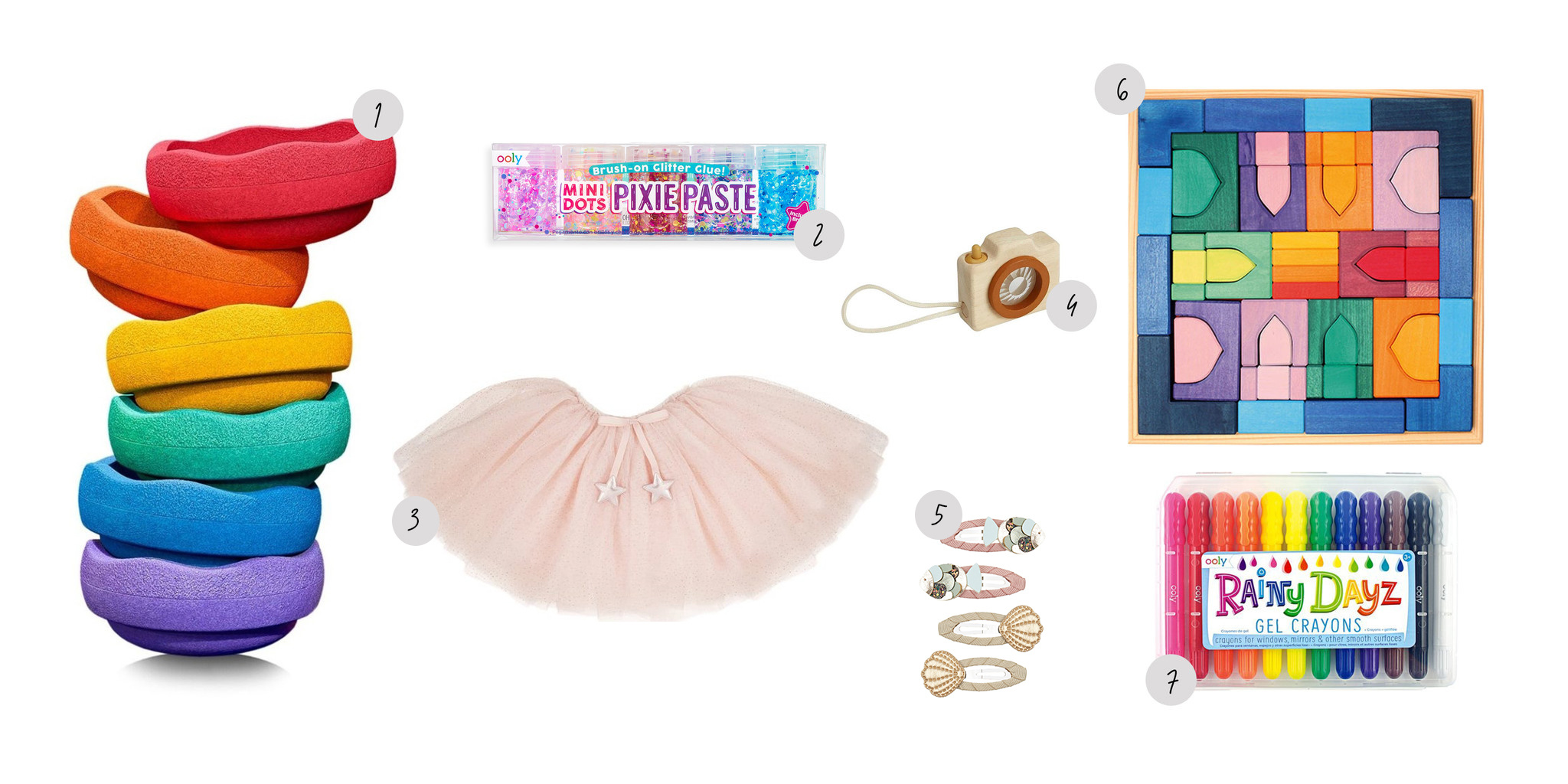 1. Stapelstein rainbow 2. Ooly mini dots pixie pastel glitterlijm 3. Mimi & Lula tutu 4. Plan Toys Mini-camera 5. Mimi & Lula haarclipjes fish & shell 6. Grimm's Toy's Building Set 1001 Nights 7. Ooly Rainy Dayz gel waskrijtjes
Naar school
Ja! Je kindje mag naar school, en wij weten dat het een grote stap is, zowel voor het kind als de ouders, want met het starten op de basisschool komen er heel veel nieuwe indrukken op je kindje af. Voorbereiding voor de basisschool is daarom erg belangrijk. Met deze superleuke items ben je al goed op weg!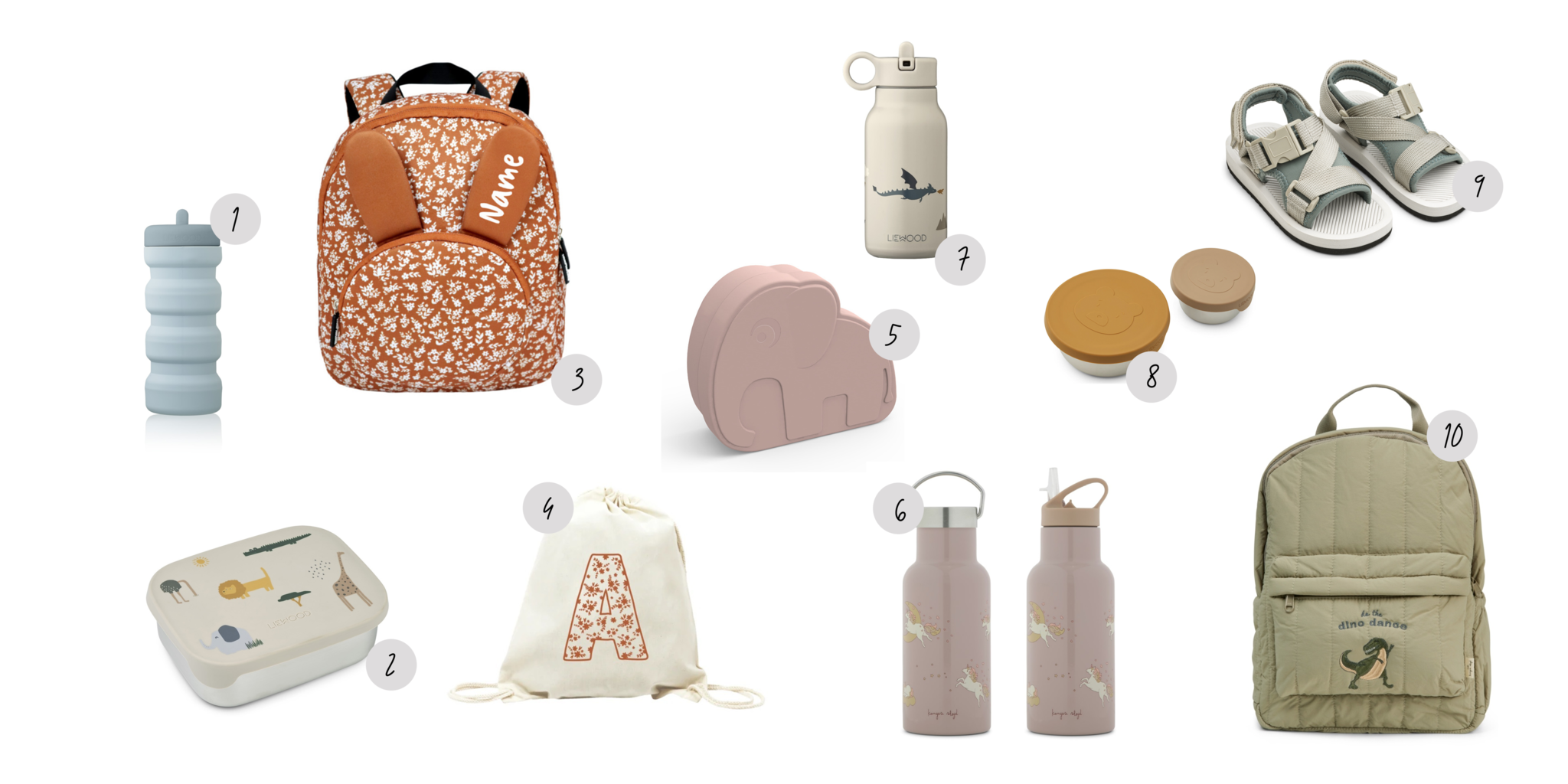 1. Liewood Wilson opvouwbare drinkfles 2. Liewood Arthur lunchbox safari 3. VanPauline Rugzak Bunny caramel flowers met naam 4. VanPauline Gymtas Flowers Letter 5. Done by Deer Lunchbox Elphee 6. Konges Sløjd thermosfles Unicorns 7. Liewood Falk fles little dragon 8. Liewood Fiby snackbox set Mr bear 9. Liewood Bruce sandalen 10. Konges Sløjd rugzak overland trek
Puzzels en boekjes
Voorlezen is leerzaam, maar vooral leuk! Kinderen van 4 jaar kunnen nu naar echte verhalen luisteren, maar ook plaatjes kijken. Voorleesboeken met minder illustraties kunnen ze ook aan, maar probeer wel een combinatie te zoeken tussen die twee. Ook zijn puzzels een echte musthave! Als je kindje naar school gaat, weten ze al hoe het puzzelen werkt en kun je voorzichtig meer uitdaging bieden.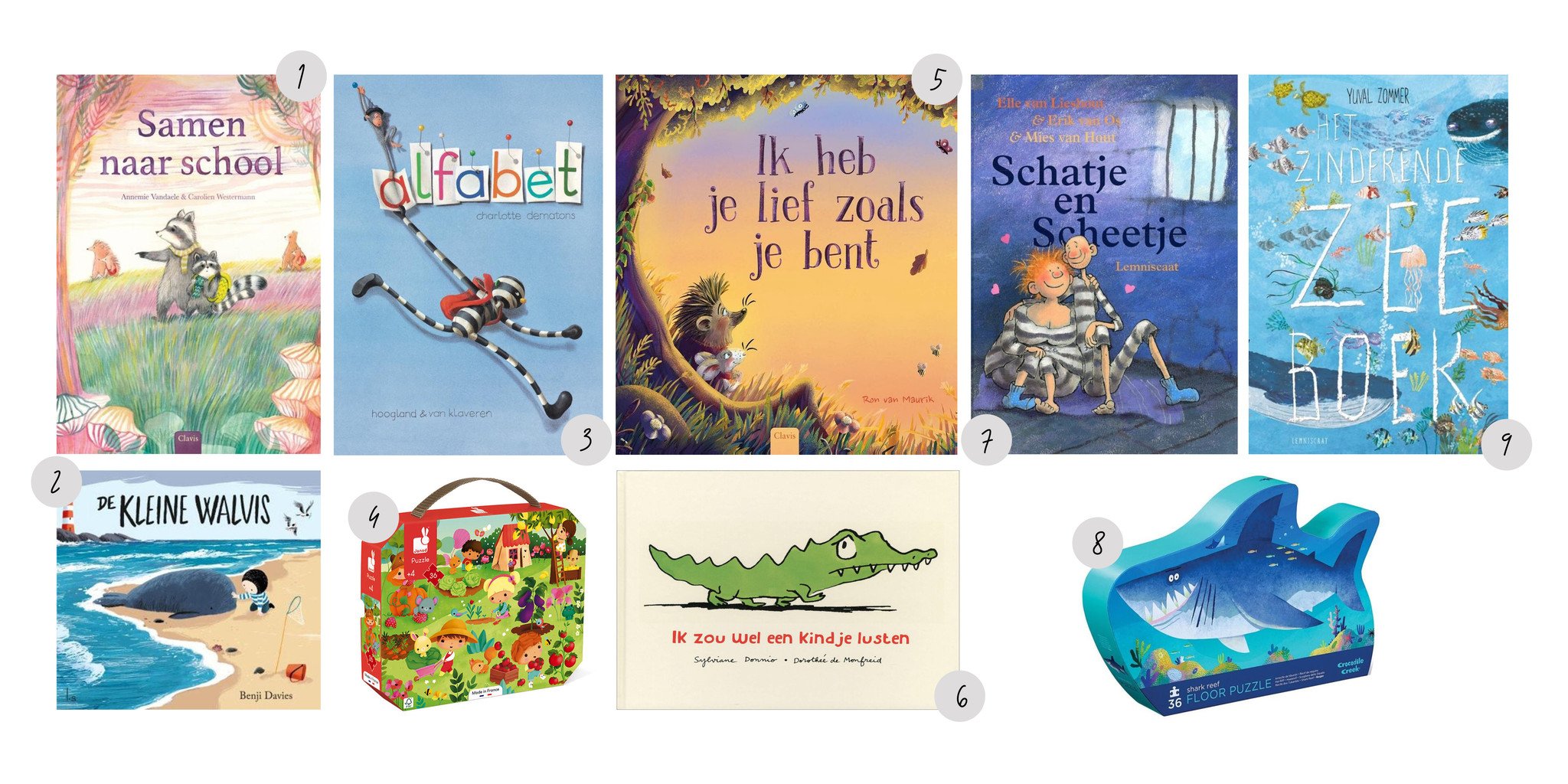 1. Boek Samen naar school  2. Boek De kleine walvis 3. Boek Alfabet 4. Janod puzzel tuin 5. Boek Ik heb je lief zoals je bent 6. Boek Ik zou wel een kindje lusten 7. Boek Schatje en scheetje  8. Crocodile Creek puzzel haaien 9. Boek Het zinderende zeeboek
Slapen
Slapen is voor iedereen belangrijk, al helemaal voor de jonge kindjes die naar school gaan of al op school zitten. Met deze hippe en stijlvolle artikelen maak je het slapen nog leuker!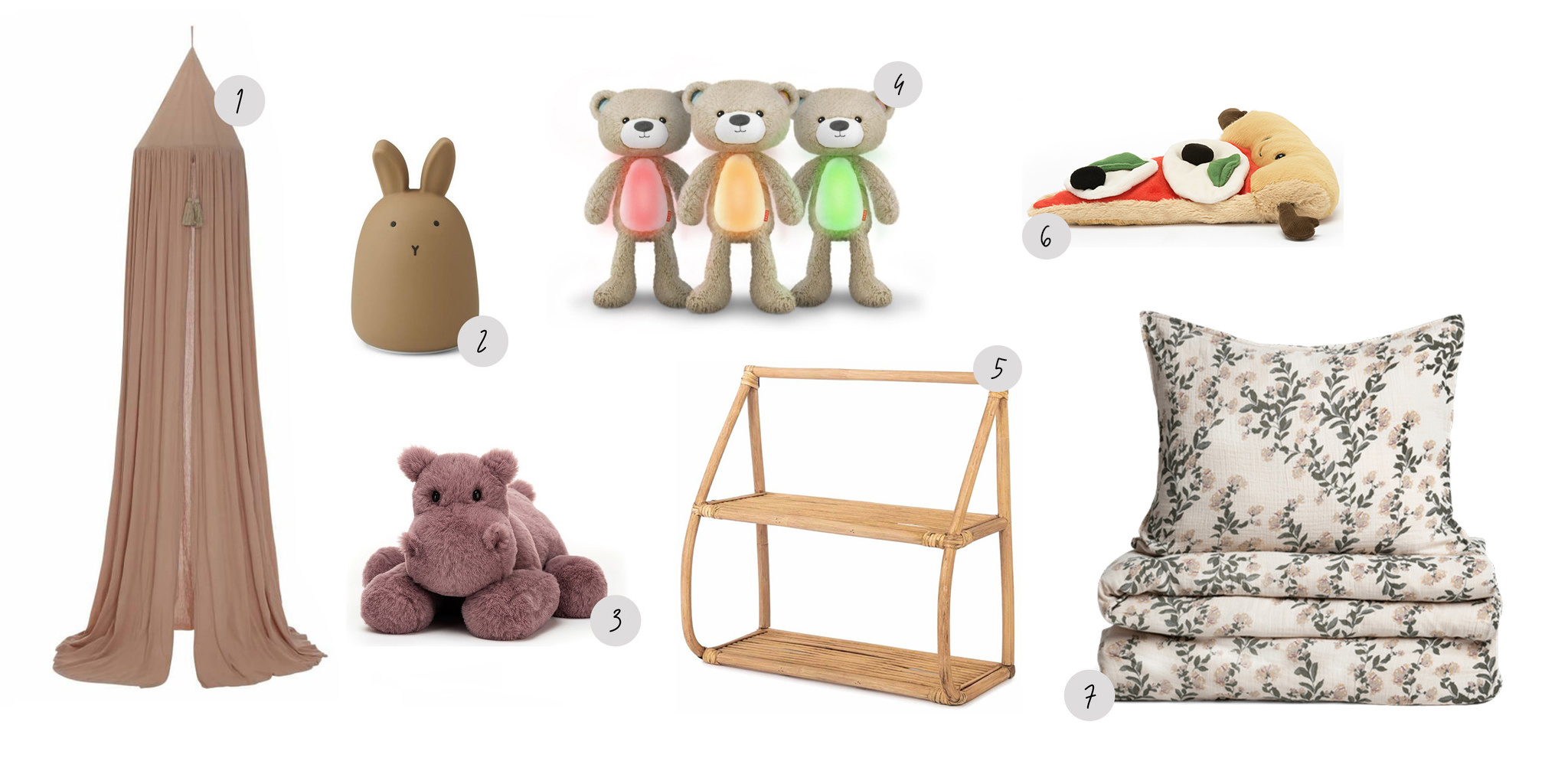 1. Konges Sløjd hemeltjes 2. Liewood oplaadbare nachtlamp rabbit 3. Jellycat knuffel Hippo 4. Zazu slaaptrainer beer Brody 5. KidsDepot wandrek Mexy rotan 6. Jellycat knuffel amuseable slice of pizza  7. Garbo&Friends dekbedovertrek Honeysuckle
Buitenspelen
De meeste kinderen zijn dol op buitenspelen. En hoe leuk zijn deze items? Buitenspeelgoed zoals een bal, stoepkrijt en springtouw zijn aantrekkelijk voor de kleine avonturiers!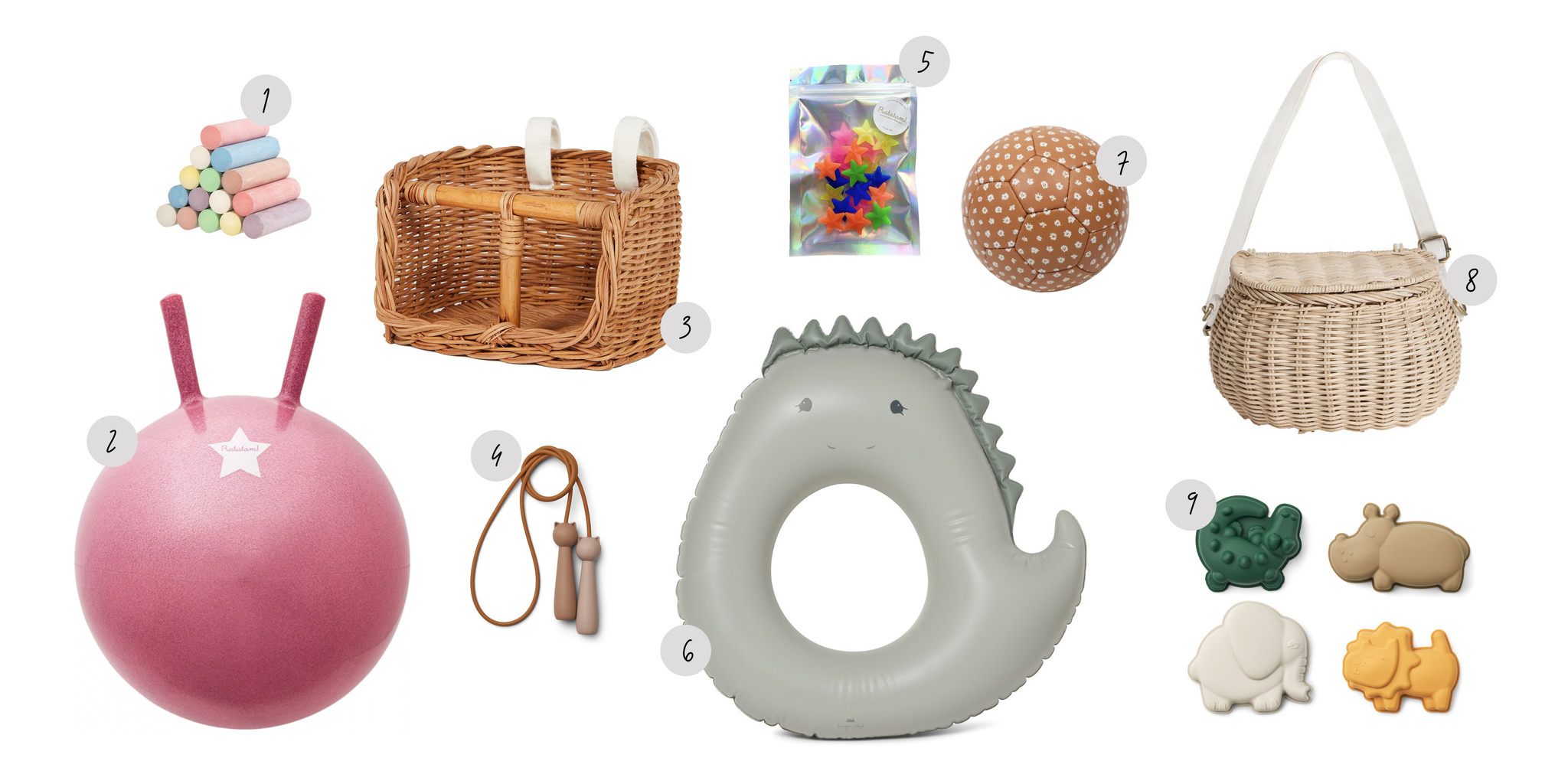 1. Goki stoepkrijt 2. Ratatam glitter skippybal 3. Olli Ella doll bring-me basket 4. Liewood Birdie springtouw 5. Ratatam fiet spaakkralen 6. Konges Sløjd zwemband dino  7. VanPauline Bal Light Caramel daisy 8. Olli Ella Chari fietsmandje 9. Liewood Gill siliconen zandvormpjes