Happy Giftlist
Happy giftlist is een handige website die gemaakt is om verlanglijstjes te maken. Op een makkelijke manier kun jij nu een overzicht maken van je wensenlijstjes. Het is niet alleen handig voor jezelf, maar het is natuurlijk ook fijn voor je gasten om te weten wat jij wilt hebben.
Waarvoor kan ik Happy Giftlist gebruiken?
Je kunt deze website voor heel veel verschillende gelegenheden gebruiken. Je kunt het als wensenlijstje voor een kinderfeestje gebruiken. Dit lijstje kun je dan ook delen met iedereen die je hebt uitgenodigd. Zo weet iedereen precies wat jij of je kind wilt hebben. Als iemand iets koopt van je lijstje, kunnen ze het item afvinken en kan iemand anders dit cadeau niet meer kopen.
Ook voor Kerst en Sinterklaas kan een verlanglijstje niet ontbreken. Je kunt dan per kind een lijstje maken en hebt een gemakkelijk overzicht van de kosten en de hoeveelheid cadeaus. Deze hoef je dan natuurlijk niet te delen met anderen, maar heb je dan voor eigen gebruik. Erg handig om het overzicht in de feestdrukte te bewaren!
Nog een handige tip is om het te gebruiken bij het maken van een geboortelijst. Je kunt precies alles wat je nodig hebt toevoegen aan de lijst en hebt zo een duidelijk overzicht, van wat je al hebt, nog nodig hebt en wat het kost. Deze kun je dan bijvoorbeeld ook delen met vrienden en familie als je een babyshower geeft.
Hoe gebruik je Happy Giftlist
Het maken van je eigen verlanglijstje op Happy Giftlist is erg gemakkelijk. Je maakt een verlanglijstje aan, vult de titel van de gelegenheid in en geeft een korte beschrijving van wat dit verlanglijstje inhoudt.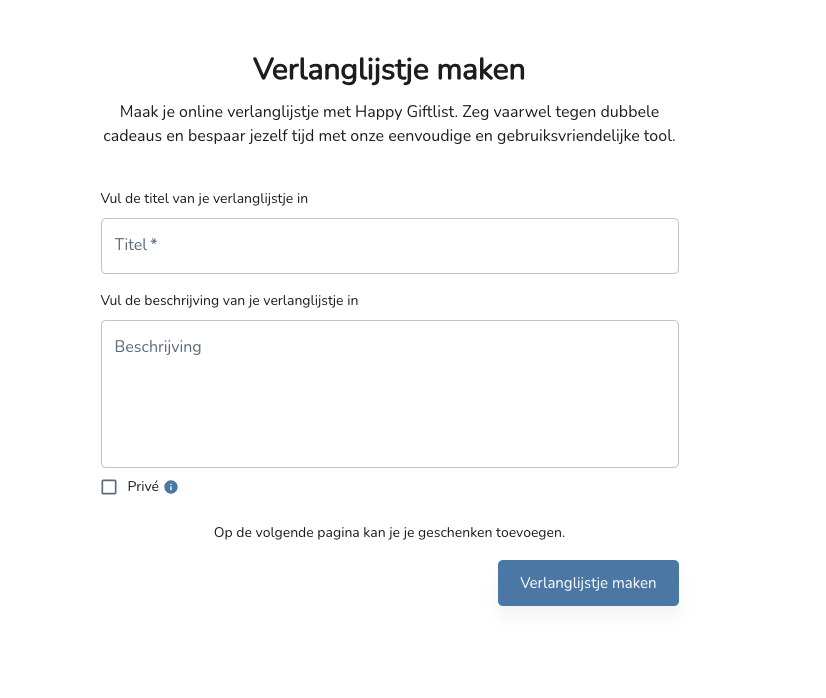 Als je een product wilt toevoegen aan je verlanglijstje, kopieer je de weblink van het product dat je wilt toevoegen en plakt deze erin. Je krijgt dan meteen een overzichtje van het product. In dit overzichtje staat een foto van het product, de prijs en hoe het heet. Je kunt ook nog een opmerking plaatsten bij ieder product of de titel aanpassen.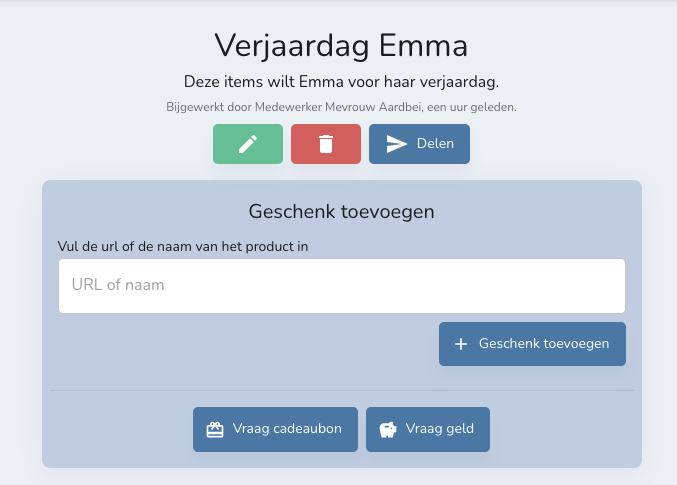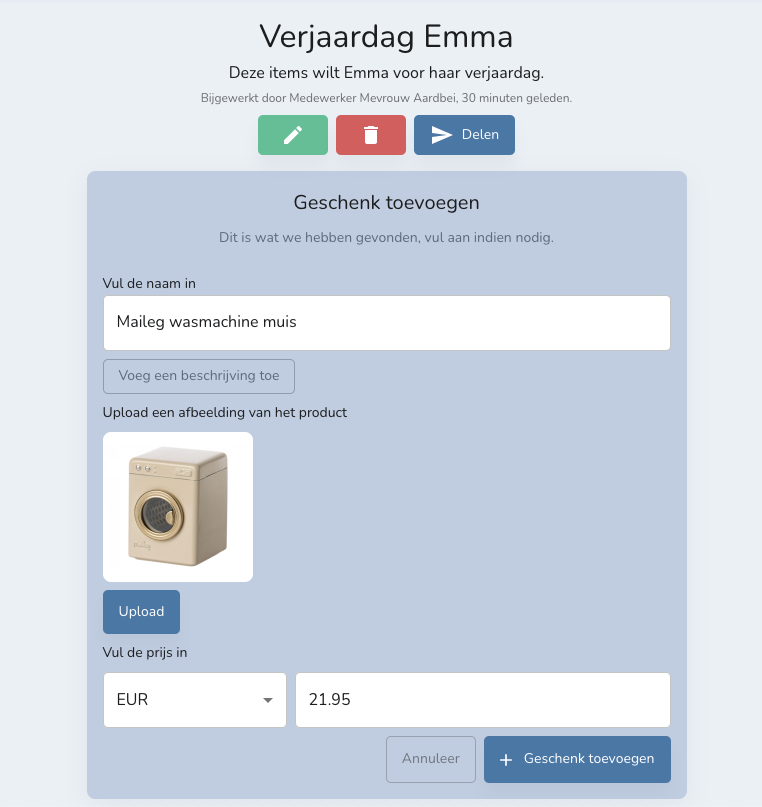 Wanneer je je hele lijstje compleet hebt kun je het delen met je vrienden, vriendinnen en familie. Dit doe je door op de klop 'delen' te drukken. Je kunt dan kiezen voor een link of QR-code; net wat handig is. De personen kunnen dan kiezen wat zij jou willen geven en dit afvinken. Zo voorkom je dus ook dubbele cadeaus!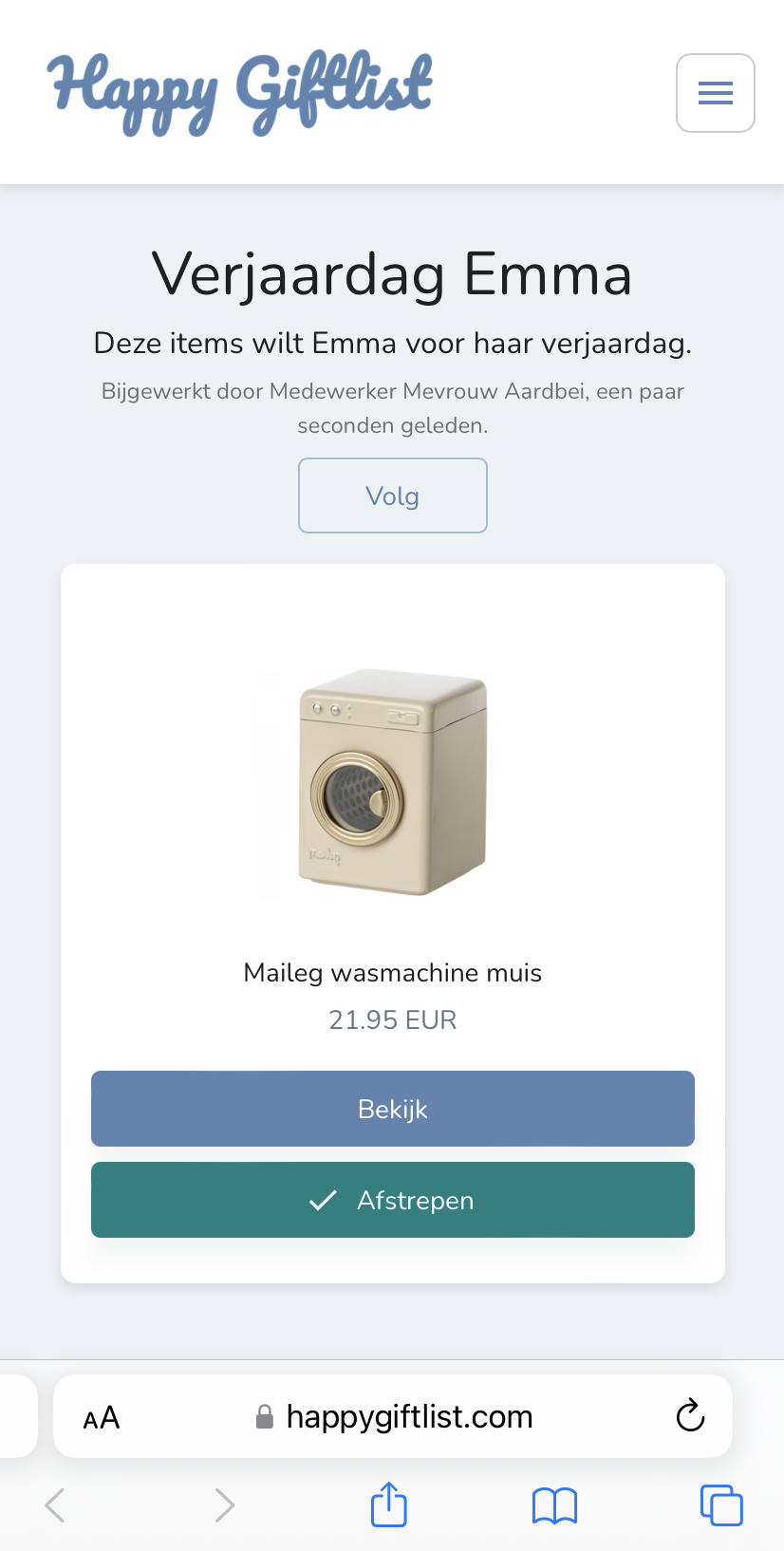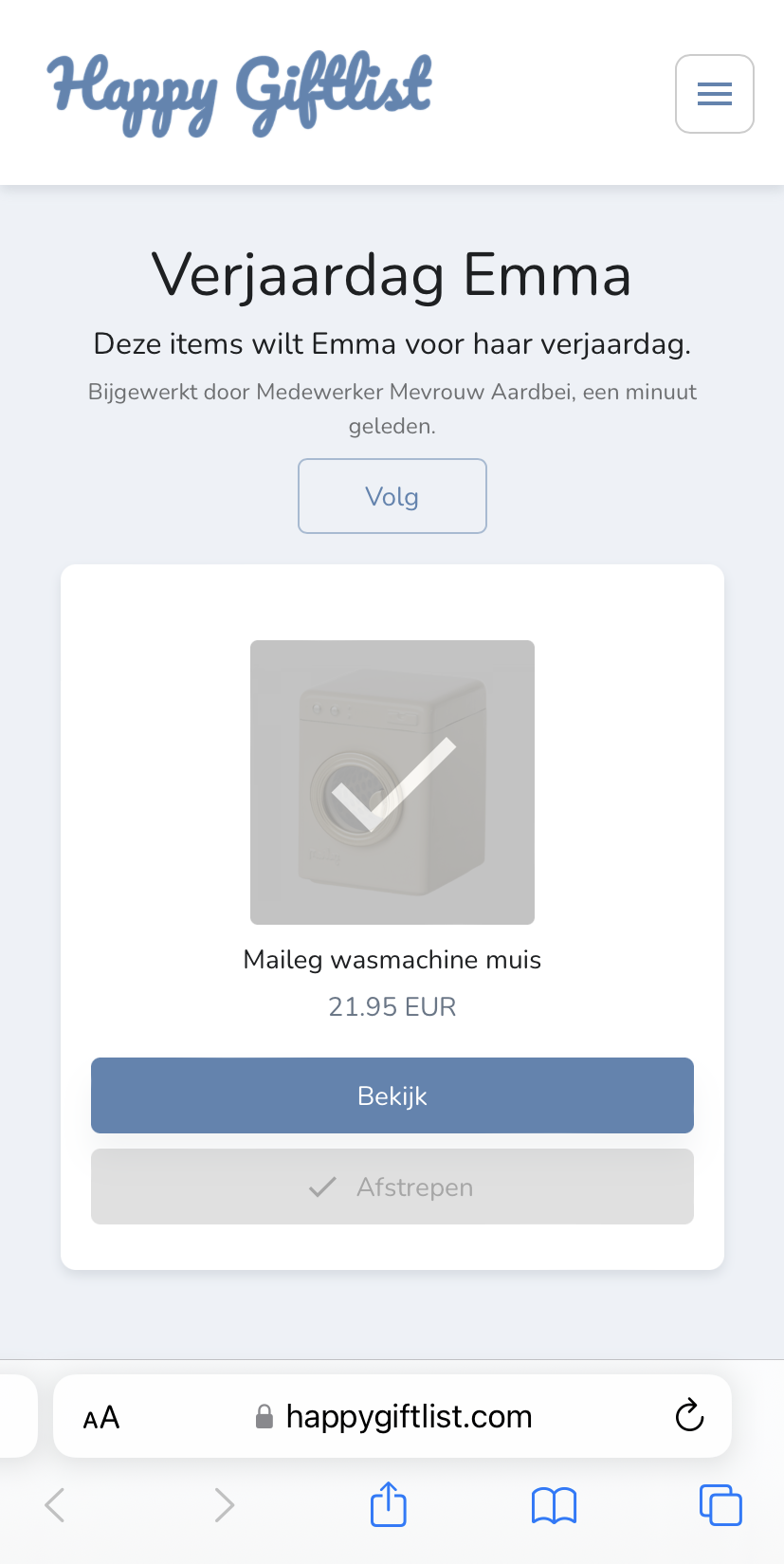 Om in je eigen overzicht te zien wat al gekocht is door een vriend of familielid klik je op het knopje 'Bekijk afgestreepte geschenken'.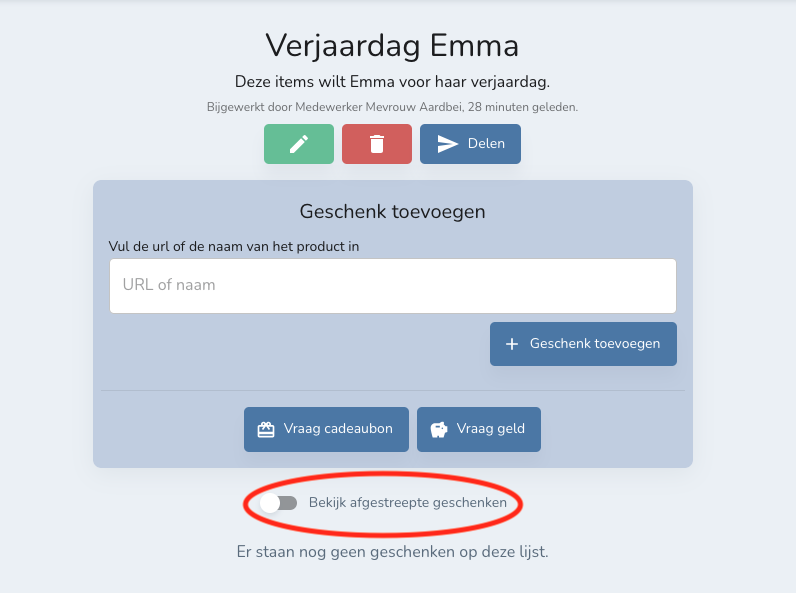 Voordelen van Happy Giftlist
Makkelijk in gebruik
Overzichtelijk
Te gebruiken voor iedere gelegenheid
Makkelijk te delen met vrienden/familie
Voorkomt dubbele cadeaus